Building an online portfolio is simple. Fluid Galleries gives you tools you need, and no extra distractions.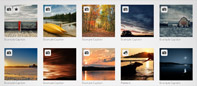 1. Build Your Content
Create pages and text. Add images and video. All in a few simple clicks.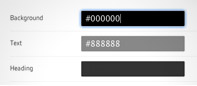 2. Customize Look & Feel
Adjust layouts, fonts, colors, & images using our WYSIWYG theme editor.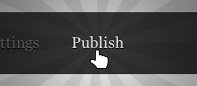 3. Publish
Fuse your content and design into a fast, device-friendly, online portfolio.
Portfolios
Create a Portfolio page, upload images, and add videos. It couldn't get any easier.
Text Pages
Create text pages using our WYSIWYG editor, such as a biography or contact page.
Menu Links
Add a url or email link directly to your website's menu bar. Useful for blog links, or downloadable files.
Sub-menus
Add a sub-menu, then add or remove pages from it on the fly.
Private Client Pages
Set any page to private to assure that only you and your select clients can view it.
Work-in-progress Pages
Mark a page as a work-in-progress to prevent it from being displayed on your live website.
Images & Video
Add, edit and sort images & video side by side, without the need for special layouts or tools.
Auto Image Processing
Images are automatically converted into various sizes and thumbnails after they have been uploaded.
Batch file uploading
Easily upload a large number of files at once.
YouTube & Vimeo Videos
Effortlessly add YouTube & Vimeo videos to any portfolio page.
Asset Manager
Upload and host arbitrary files to be used in your website, such as a downloadable pdf resume.
Website / Online Portfolio
Viewable across devices
Each theme is specifically crafted to display beautifully across all devices, without the use of duplicate or mirror sites.
Use Your Own Domain
Use your existing domain for your Fluid Galleries portfolio website.
Theme Collection
Choose a theme from our growing design collection, and customize it with your branding.
Custom Themes
Create your own theme using HTML, CSS and our simple template language.
WYSIWYG Theme Editor
Always see a live full-browser preview of website's design as customize your theme.
Fast Loading
Our unique lightweight rendering engine makes your website snappy & responsive.
Splash / Intro Pages
Some of our themes have splash / intro pages built in. If you want one, let us know.
Favicon
Brand the browser address bar by adding a custom Favicon to your Fluid Galleries website.
Site Statistics
Gain rich insights into your portfolio website traffic with our built-in Google Analytics support.
SEO Optimized
Enjoy fine grain control of your title, meta-description, image alt tags, and header tags. All themes are crafted for maximum SEO effectiveness.
Social Media Sharing
With sharing built-in, it's easy for visitors to share your portfolio on their favourite networks.
Pretty URLs
SEO optimized URLs that are easy to read, such as yourdomain.com/your-page
Use Real Fonts
Reinforce your brand by using real Typekit.com fonts in your portfolio website.
Additional Professional Tools
Multiple Users
Create additional administrators and assistants and give them access to selected sites.
Multiple Sites
Create & manage multiple website from your single Fluid Galleries account.
Payment History
View your invoices and past billing history at any time.
Email
Need e-mail? We'll help you get started with free Google Apps e-mail. Enjoy up to 50 email addresses using your own domainname.